Scythe: Digital Edition
Developer:

The Knights of Unity

Genre:

Strategy

Version:

Early Access
Download:
Scythedigitaledition is not an official representative or the developer of this application. Copyrighted materials belong to their respective owners
Official information
| | |
| --- | --- |
| Release Date | Jun 13, 2018 |
| Developer | The Knights of Unity |
| Publisher | Asmodee Digital |
| Genre | Strategy |
| Language | French, Italian, German, Spanish, Polish |
| System | PC |
| Version | Early Access |
Screenshots
Scythe metamorphosis into Digital Edition, or How the board games come to your PC
The 1920's in Europe, the interwar period, the Roaring Twenties, the time of significant social transformations and technical progress. Would you like to dive into this atmosphere entirely, to analyze it deeply, and to try yourself as a 1920's man? Scythe Digital Edition offers you to become a part of this reality, though a bit distorted in comparison with historical twenties.
The early access Steam game Scythe is something you should try if you are a fan of strategies and an adherent of board games. Don't be surprised by the last statement. We are pretty sure, you must have heard about the Scythe board game strategy which was the real hit among the tabletop titles in 2016.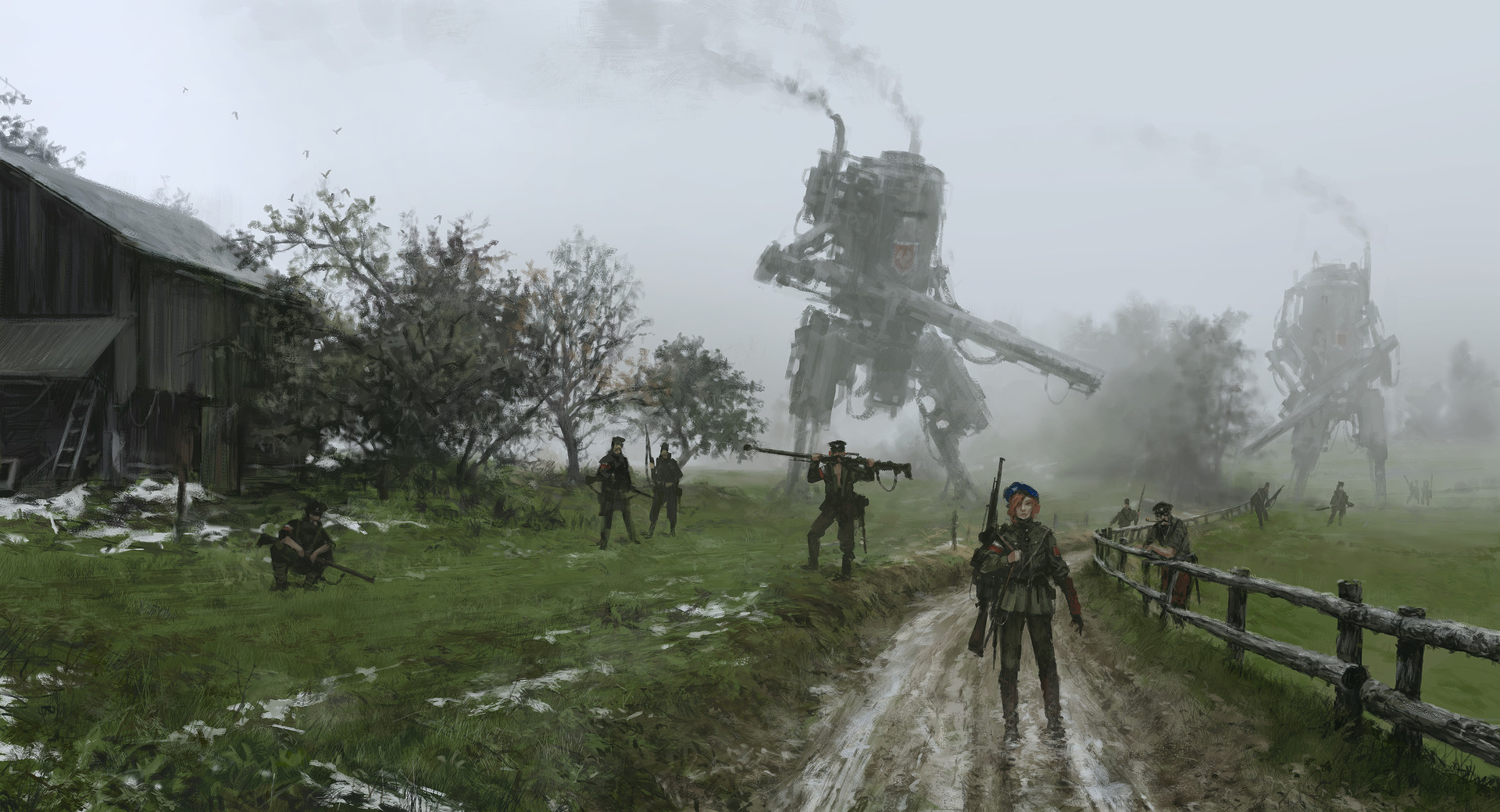 The incredible success of this board strategy made some game developers ponder about its transformation into a digital one. This metamorphosis happened not long ago. And now we've got Scythe online edition for getting utterly satisfying game experience.
So let's put everything about Scythe in order.
The 1920+: fantastic machines in the surreal twenties
Scythe Digital Edition represents a PC version of a tabletop game which is an unusual idea itself. If you are familiar with its original board version or its visual appearance, you may find Scythe online edition much similar to it. Just imagine how the cardboard landscapes and characters revived and became voluminous, and you will get an idea of how Scythe Digital Edition looks graphically.
Scythe is considered as an exceptional tabletop title largely due to the unique drawings of Jakub Rozalski (also known as Mr.Werewolf). He is a Polish conceptual artist and the art-director of Dwarf Tales. His project 1920+ was taken as a basis for the game (both board and online) graphic design.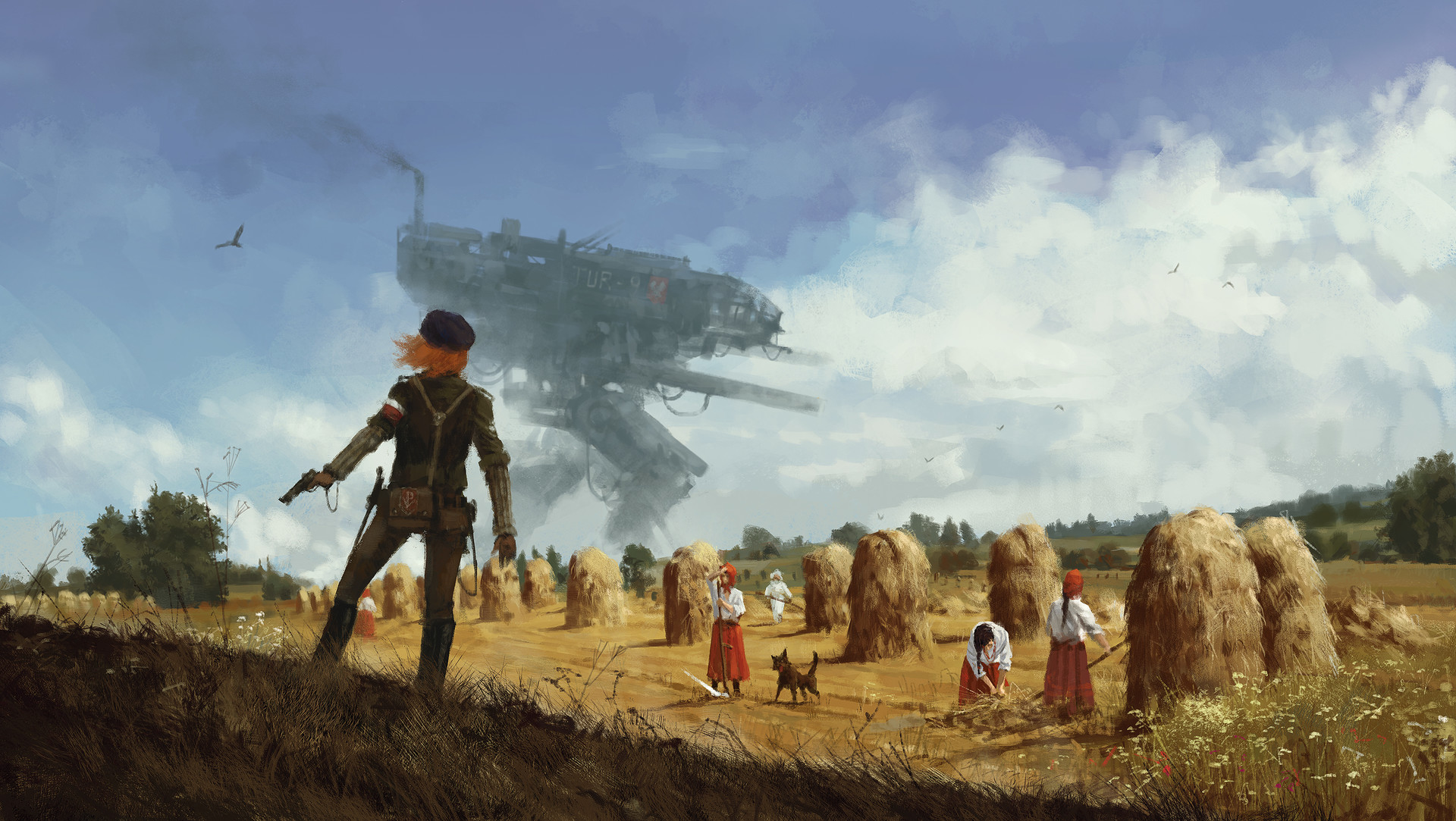 The 1920+ project is Jakub's attempt to create a world where imaginary aspects combine with a historical aesthetic of the twenties. The artist blends Polish rural landscapes of the beginning of the 20s with the giant robots walking nearby. In the emotional sense, this project is also Rozalski's try to comprehend the history of his motherland in the times of Polish-Soviet war and to endow it with fantastic features like walking machines.
With his paintings, Rozalski creates realistically-looking and colorful characters and surroundings. So that Scythe Digital Edition gets its unique, powerful visuals for the embodiment of the imaginary world of the 1920s.
"Factory" at stake
So in Scythe Digital Edition, we've got a beautiful wrapper of fictional 1920s. And what is hidden beneath?
The first thing we should mention is the game genre. Scythe Digital Edition is a 4X game, which literally means "eXplore, eXpand, eXploit, and eXterminate". That all together guarantees you eXciting gameplay.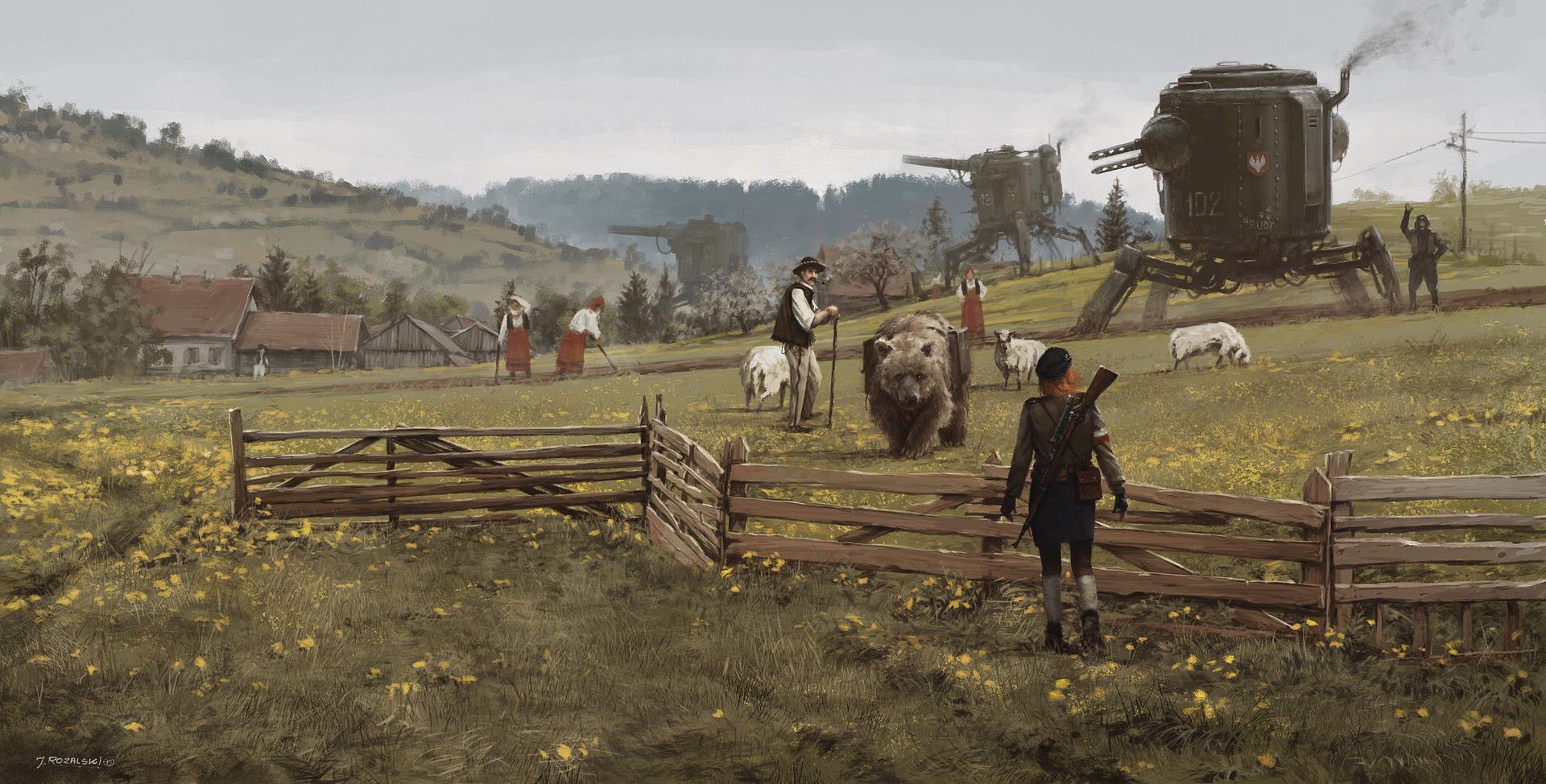 As the recreation of the Scythe board game strategy, the PC version keeps the original plot. In the 1920's alternate world situated in Eastern Europe, there are two countries you can choose to play. Pick one of five fabled states which are offered at your choice. For example, it could be Polonia or Crimea. No matter which one you select you need to determine with your basic actions. Concentrate your strategy on trading, boosting power, harvesting or moving to the new territories. One of these activities would be primary, and the second one - additional. So you need to balance between them elaborately.
Your role as a leader of any of the five factions lays in the mission of conquering the desired area named "Factory". You have your people subordinated and the giant war machines to control to gain the victory.
Digital VS Board: what's your flavour?
Scythe Board Game won hearts of the players in 2016 right after its emergence on the market. The challenging idea of the game captures from one to five players and takes about two hours to play. It offers you an immersion into alternate 20's atmosphere. Conducting war, farming, building, and using technical innovations these are the activities for the proper strategy game. And Scythe board game strategy got them all!

Many board games players noted that Scythe's rules are pretty straightforward. So you will figure out the rules of the game precisely from your first tabletop tournaments.
The same cannot be said about the PC version. To start playing Scythe Digital Edition, you'll need to get acquainted with tutorials which will take about half an hour. Still, there's no guarantee that you will begin the game with the complete comprehension of the gameplay. Only by practicing, you'll get to know how to beat the Scythe's AI.
The tabletop version considers playing with up to five rivals or even alone (yes, there's a solo mode which is provided by the smart cards imitating an opponent's AI). The digital Scythe does the same by offering you competing with AI or other players in a multiplayer mode (though not sharp-cut yet).
As Scythe Digital Edition is a game on Early Access, we still expect so many changes in the nearest time. So at the moment, there's not much sense in comparing online and physical versions.
The only thing we must add concerns the price for the game. If the Scythe board edition costs you approximately $70, you can afford Scythe Digital Edition in early access only for $19,99.
A second (digital) bite at the cherry
Scythe Digital Edition is the best of both worlds which could happen to the fans of the game's board version. PC adaptation preserves the original aesthetics (and even enhances it with revived art-works of Jakub Rozalski), the gameplay, and the multiplayer option for which we value board games so high.
Scythe is simultaneously vintage and futuristic, fantastic and realistic. With one of the five available leaders, you can feel the spirit of imaginary twenties and gratify your ambitions of a conqueror or vice versa, a thoughtful ruler of your state.
Make your own experiments in this exciting 4X game, and prepare to get Scythe's full value version by the end of 2018.
Top-3 Scythe: Digital Edition videos
Scythe Digital - Critical Play and First Look

Scythe - Digital Board Game

Scythe Digital Edition - Gameplay Trailer - EN
Download:
This links follows to webpage, where you will find links to official sources of Scythe: Digital Edition. If you are Windows PC user, then just click to button below and go to page with links. Please note that this game may ask for additional in-game purchases and permissions when installed.